About Hexafour Philippines Inc.
Hexafour Philippines Inc. is a Japanese-Filipino corporation established in February, 2007 in consonance with the governments thrust to meet the nation's economic boom particularly in the area of construction. With this end view, Hexafour Philippines Inc. was able to develop and participate in several key national projects starting from its inception up to the present time. The milestone that Hexafour Philipines Inc. has attained is the result of a synergy of age old Japanese-Filipino values namely: Hard work, Diligence, Quality and Honest Work by those behind the organization.
Presently, the major thrust of Hexafour Philippines Inc. towards nation building includes steel material supply, precast concrete fabrication, steel fabrication, roads and highway lighting system construction, traffic and directional signage construction, toll booth construction, guard rail construction and participation in road works and highway construction.
With God's will, the company aspires to become a major player in the field of construction in the Philippines and Asia.
Company Track Record of Material Supply with Engineering Services: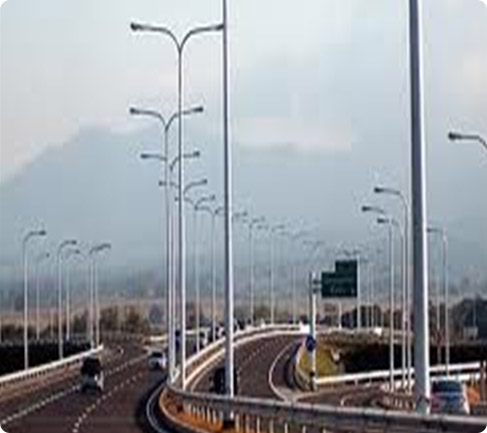 Subic – Clark – Tarlac Expressway Project
Supply To :
Obayashi Corporation
Kajima Corporation
Hazama Corporation
Mitsubishi Heavy Industrials LTD.
JFE Engineering Corporation
Supply Materials and Engineering Services:
Guardrail with Post (350km / 7,00MT)
Lighting Pole
Canopy 11 Place (400MT)
Signage 350km (200MT) with Aluminium Panel
Copper Cable (Electric Cable) 400MT
Heavy Equipment
Light Steel Accessory (Chatter Bar, Cats Eye etc.)
Road Marking (Reflective Pavement Markings)
Gabion (80,000sqm.)